The tenor Heinrich Gudehus was a pupil of Malwine Schnorr von Carolsfeld. In 1866 he married Celle Caroline Johanne Klippel, but she died in 1867 after she gave birth to a dead child. In 1868 he married her sister Dorothee Friedrike, but she died in 1869.
In 1871 he debuted at the Court Opera in Berlin. Afterwards Luise Ress (1843-1908) became his teacher and after several other stations he was was engaged at the Court Opera in Dresden in 1880. There he worked until 1890. In 1877 he had married Elisabeth Tovote in Meppen and with her he had two daughters and two sons.
He met Richard Wagner in Dresden in 1891 and Wagner was so impressed that he invited him to Bayreuth in 1882 where he sang the title part in the second performance of Wagner's final opera "Parsifal". He performed in Bayreuth several more times. In 1890 he was engaged at the Metropolitan Opera for one season. He ended his career in 1896. After he lost most of his money during a banking crisis in Leipzig and was forced to work as a teacher. He died in 1909 and his wife survived him until 1925.
as Tristan Bayreuth 1886
as Lohengrin
as Lohengrin
as Stolzing with Malten and Scheide- mantel Dresden
as Siegfried "Siegfried"
as Siegfried "Siegfried"
as Parsifal Bayreuth 1882
as Parsifal Bayreuth 1882
as Parsifal Bayreuth
as Parsifal Bayreuth 1888
as Parsifal Bayreuth
as Parsifal with Malten Bayreuth
as Parsifal with Brandt and Siehr Bayreuth 1882
as Parsifal with Malten and Siehr Bayreuth 1882
as Parsifal with Malten and Siehr Bayreuth 1882
as Parsifal with Malten and Siehr Bayreuth 1882
Portrait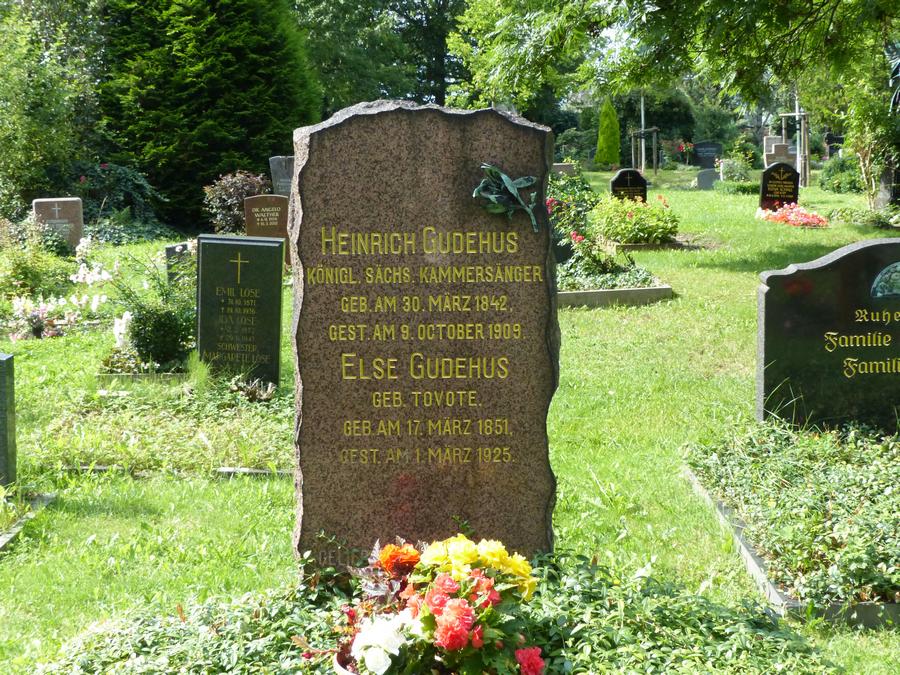 The grave of Heinrich Gudehus at the Alter Annenfriedhof, Dresden.
Picture by Androom (06 Aug 2016)