Jane Bathori was a soprano and mezzo-soprano who gave the first performances of many works by contemporary French composers. She studied with, and married, the Belgian tenor Emile Engel (1847 – 1927).
"Ce fut pendant l'hiver 1898-1899 que je connus Maurice Ravel, il était alors élève de Gabriel Fauré et me fut présenté par un ami commun." (La revue musicale, déc.1938, p.179)
She was a noted interpreter of Shéhérazade (apparently having learnt the work in an hour and a half in order to replace the suddenly indisposed Jane Hatto in an early performance, 12.x.1904; Jourdan-Morhange [1945] p.207). She gave the first performance of Histoires naturelles (12.i.1907), which was greeted with boos and whistles – partly because of the defiant setting of the prose words to ignore the final 'e' of a word as a separate note value. "At the Société Nationale Jane Bathori courageously faced a rowdy audience put off by the onomatopoeic sounds and which naturally burst out laughing when she sang the words, 'Not a single bite this evening' – a phrase in Le martin-pêcheur". (Long, [1973], pp.104-5)
She also sang the first performances of Noël des jouets in March 1906, Sur l'herbe in December 1907, Trois poèmes de Stéphane Mallarmé in January 1914, the Chansons madécasses in June 1926, and Rêves in March 1927.
From 1926 onwards she developed a close relationship with Argentina through recital tours, teaching and the promotion of first performances of many new French works; she lived in Buenos Aires during World War II. In 1933 she sang the part of Concepción in L'Heure espagnole at the Teatro Colón.
She published two books on singing: Conseils sur le chant (Paris, 1928), and Sur l'interpretation des mélodies de Claude Debussy (Paris, 1953).
Courtesy: Maurice Ravel.Net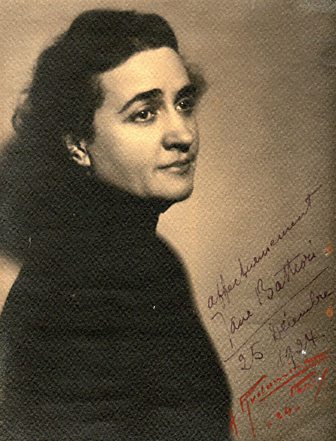 Jane Bathori 1912